Large Bore Ball Valves up to 56"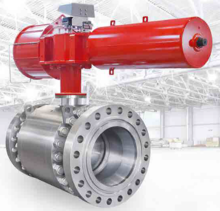 DK-LOK is bringing large bore ball valves into Canada for 2019.  These valves are of Italian design and expertise combined with high tech manufacturing out of South Korea.  DK-LOK is designing valves that will work in every application for oil and gas.  Our technical team carefully evaluates all technical specifications in order to provide the best technical solution to comply with the client requirements and, whenever possible, to advise potential improvements in order to supply a better built valve that meets your service or application.
DK-LOK Ball Valves can be manufactured from 1½ up to 56" (where applicable)
Pressure classes anywhere from 150 to 2500 ANSI (where applicable)
Floating and Trunnion ball valves ( DBB, DIB1 and DIB2).
Our valves are manufactured using any kind of material depending on the clients requests and technical evaluation including but not limited to: Carbon Steel (including low temperature), Stainless Steel, Duplex and Super duplex, Inconel, Incoloy, Titanium and CRA (corrosion resistance alloys).
DK-LOK Canada will focus on Side Entry Bolted Body, Double Block and Bleed Side Entry, Fully Welded, Cryogenic and Floating ball valves. We are also targeting extreme applications and specialized valves for Sour Service, CO2 Service, Corrosive Environments, Cryogenic ( service up to -196 C), High Temperature ( up to 770 C) and High Pressure (rated up to ANSI 4500 special class).