V81 Ball Valve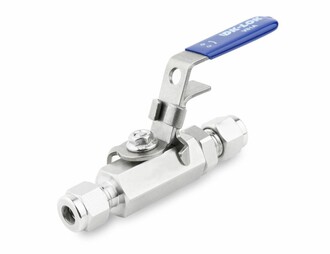 The DK-LOK V81 Ball Valve offers a safe and reliable performance for a wide range of onshore and offshore applications: water, oil, gas, petrochemical, and general duty applications.
Features include:
Compact bar-stock construction for high integrity
Blow-out proof design with internally loaded stem
Floating Ball design providing seat wear compensation
A micro-finished ball that ensures a leak-tight shut-off on pressure
Ambient Working Pressure – 1,000 PSI (Optional TFM seats to 2,000 PSI)
Standard lever handle, optional locking lever, butterfly, and dielectric handle.
Testing:
Every valve is factory tested with nitrogen gas @41 bar (600 psig) for leakage at the seat to a maximum allowable leak rate of 0.1 SCCM. The packing is tested with nitrogen for no detectable leakage.