Gauge Root Valves 6K & 10K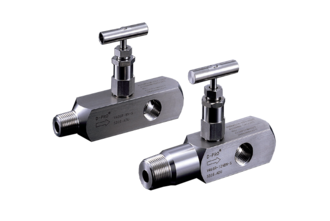 DK-LOK D-Pro Gauge Root Valves offer a safe way of positioning gauges and installing pressure switches. Packing below stem thread maintains in small, medium, and large bonnet valves on manifolds as well as on gauge root valves. 
Features include:
Non-rotating stem tip at closure for long-life and leak-tight shutoff.
Chevron PTFE packing design provides far improved sealing integrity.
Packing below stem threads is to isolate threads from system fluid and lubricant washout.
Packing bolt permits stem packing adjustment.
Standard Lockplate ensures the valve fastened to the body even excessive operating torque is applied.
1/2 in. and 3/4 in. male to 1/2 in. female end connections, 1/2 in. female gauge ports standard, and minimum schedule 160 pipe wall on valve inlet.
V46GRL has an extended 4.8 inch of pipe insulation while V46 series uses Medium Bonnet Valve: Orifice 5.0 mm (.196in.).
Grafoil and Sour Gas options for a wide array of applications.
Pressure Rating up to 6000 psig (413 bar).
Design:
D-Pro Manifolds and Gauge root valves are designed to ASME B16.34 Class 2500 for pressure-temperature ratings.
Pressure boundary wetted parts are selected to Chapter III, 123 Materials of ASME B31.1.
Valve ratings are based on ASME process piping code B31.3.
To determine pressure rating at 37 O C (100 O F) in accordance with Power piping code B31.1, multiply by 0.94 for stainless steel.
Testing:
Every manifolds and gauge root valve is factory tested with nitrogen @ 69 bar (1000 psig) for leakage at the seat to a maximum allowable leak rate of 0.1 SCCM.
Stem packing is tested for no detectable leakage.
Optional hydrostatic shell test is performed with pure water at 1.5 times the working pressure.
Packing adjustment and Actuation Torque:
Extreme or rapid temperature cycle while valve in service may require packing adjustment. Tighten the packing bolt 1/16 turn clockwise.
Valves that have not been actuated for a period of time may have a higher initial actuation torque.
Sour Gas Service:
For use valve in sour gas, materials for wetted components are selected in accordance with NACE MR0175 latest revision.